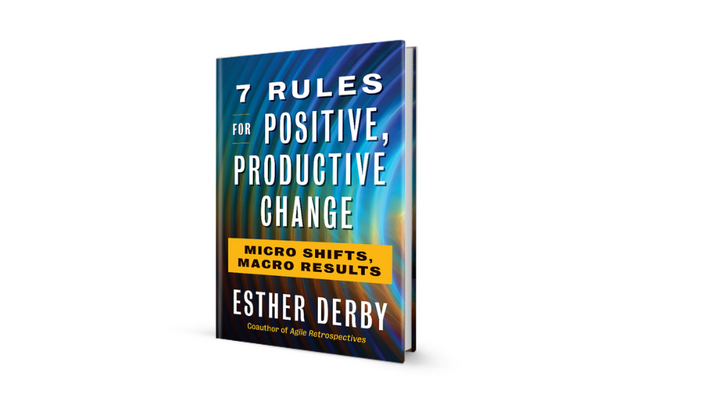 Change by Attraction (Live Video Cohort)
Hone Your Ability to Catalyze Change
Everyone I know wishes something were different. Making that difference happen involves change: changing processes, changing systems, changing outcomes. Whether or not you have change management in your job description, your job involves change.

This course addresses some of the biggest frustrations I see in organizational change:
People may not want to change. You'll explore why that is, and how you can turn resistance into a resource.
Nothing really changes, in spite of extensive (and expensive) training and coaching. You'll learn how to "see" underlying structures and factors that hold the pattern in place.
One size fits none, and everyone wants an exception. It isn't possible to anticipate (or accommodate) every context and every variation. You'll learn to think about guardrails that about bound variation, rather than enforce standardization.
You can't do it alone. Systems influence behavior, but it takes humans to change systems. In this part, we'll explore how to build a network of influencers and find support.
Who is it for?
This course will provide practical insights, tools, and models for people who need to make changes—from small improvements to major transformations. While the course is written in the context of organizational change, many of the methods are applicable outside the organizational context. The course will be useful to managers, coaches, team leads and change management practitioners.

How does it work?
Based on 7 Rules for Positive Productive Change: Micro Shifts, Macro Results, the course is divided into four sections, addressing each of the issues outlined above. Each section has an introductory video and three learning cycles and a reflection. I designed the exercises to explore concepts and provide practice within the participants context. Resources include assigned book chapters, articles, and podcasts. (Participants are responsible for obtaining their own copy of 7 Rules.)
The live cohort starts with a one-hour orientation meeting. Then you'll have a week to read the material and work on the exercises for the first section. Every Thursday for the next four weeks, we'll have an hour-and-a-half- video meeting to discuss and share insights. Most students spend 6-8 hours a week reading and completing homework.
Orientation: Orientation meeting to go over mechanics, where stuff lives, format for subsequent group sessions. Section 1 material is available.
Section 1: Renaming Resistance small group work. Section 2 material available.
Section 2: See the System small group work. Section 3 material available.
Section 3: Activate Allies small group work. Section 4 material available.
Section 4: Allow for Variation small group work. Wrap up.
In between meetings you'll have access to a Slack team--and your peers---to share insights, ask questions, and respond to challenges. Participants in previous cohorts reported spending 6-8 hours a week on reading and homework.

I do not have a public cohort scheduled at this time.
I'm also offering private cohorts for companies who wish to enroll 6 or more people. Email me to discuss.

Watch the video, read the assigned chapters and other materials, do the exercises--exploring your own context and the changes that are important in your organization.
Your Instructor

I draw on four decades of experience leading, observing, and living organizational change. I work with a broad array of organizations. My clients include start ups and Fortune 500 companies.
I'm author of 7 Rules for Positive Productive Change, and co-author of Agile Retrospectives and Behind Closed Doors: Secrets of Great Management.
Based on experience and research, my approach blends attention to humans and deep knowledge of complex adaptive systems.
I started my career as a programmer. However, over the years I've worn many hats, including business owner, internal consultant and manager. From all these perspectives, one thing was clear: individual, team, and even organizational success depends greatly on the work environment and organizational dynamics. As a result, I have spent the last twenty-five years helping companies shape their environment for optimum success.

In 1997, I founded esther derby associates, inc.
I've learned a lot about how organizations work through observation and action research. My formal education includes an MA in Organizational Leadership and a certificate in Human Systems Dynamics.
In addition, I've studied at the NTL Institute for Applied Behavioral Science. I hold a certificate in Human Systems Dynamics.
Starting in 1991, I studied and worked extensively with Jerry Weinberg. In 1999, I participated in Jean McLendon's Year-long program exploring the Satir Growth Model.
Course Curriculum
Introduction
Available in days
days after you enroll
Renaming Resistance
Available in days
days after you enroll
See the System
Available in days
days after you enroll
Frequently Asked Questions
When does the course start and finish?
The course starts with an orientation session, followed by four sessions for small group work and discussion. See the information section for the dates of the current cohort.
How long do I have access to the course?
The first section material is available the day of the Orientation meeting. See the schedule above. You have access to this course for as long as its published - across any and all devices you own. I expect that to be a very long time.
This course is closed for enrollment.